Last month we talked about Technology V Skill and what
you
thought was most important when heading out with the camera. If you missed the discussion or want to catch up on some of the awesome comments check it out
here.
The top comment last month, winning 50 DeviantART points, comes from
~
ManualFocusPhoto
(which perhaps sums it all up in the name!) You can read it
here.

"Equipment doesn't matter...to a certain degree. Cameras are just tools, and certain jobs require different tools.
Cameras are smart in calculating exposure, but that's about it, they can't think for you, and they can't compose the shot for you, nor will they tell you when it is the best time of day, or which flash array to use.

Debating that the good old days were better is a moot point, if you need old equipment to be old school, you're not old school, you're a poser, the only difference that matters to real photographers between digital and film is that they capture the image data differently, and as a result are developed differently..."
This month we're talking about the importance of Photography - in particular in the current climate when nearly every industry is fighting to keep people in work, and nearly every full time Photographer is fighting to earn a living.
Last week a French newspaper was published
without Photographs.
It looked
bizarre.
In the places where the Photographs should have been, sat merely white boxes. Libération has made a stand in a time when photo-journalists are being laid off left right and centre, to try and highlight the importance of images particularly with conflict zone reporting.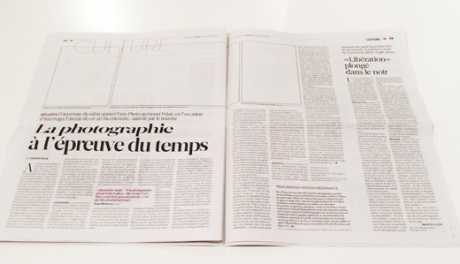 Source The Guardian
The image above is eery, it takes us back to a time that nobody living will have experienced. An era without Photography. Whilst the actions of the newspaper are fairly drastic, is this a sight that we're likely to see in the near future? Or something that's totally beyond comprehension and understanding, let alone possibility...?